Profile Photos are Important
Why Profile Photos Matter & How to Get Good Ones
Does your profile pic differentiate you?
If you're taking a "one photo fits all" approach to your real estate marketing, you might be missing out on opportunities to showcase your personality, which is a crucial component to building client relationships.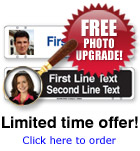 Traditional real estate headshots, while "professional" don't really tell much of a story. If you've seen one, you've seen them all… and that's not great for differentiating yourself on signs or online. While you may be subject to company guidelines with regards to your signs and photos, blogs and social media sites are a great place to introduce more personality. Your interests–from sports to travel–can be great connection points with prospects.
Unfortunately, many people think of social media photos as the equivalent of "sweat pants on Sunday night." From a bad photos to worse wardrobe choices, you can quickly undermine your credibility online. Very little attention is paid to the impact a professional, yet casual photo can have on your audience.
>> Click here for a FREE photo upgrade from Oakley Signs & Graphics <<
Take a tip from the online dating industry: Profile pics matter. To that end, we've found a good resource for locating professional freelance photographers in your area who can help you create profile pictures which help you convey personality and professionalism.
Don't be turned off by the fact that this site pitches itself for people looking to connect on dating sites. You're definitely looking for a professional relationship with a client, and a great photo can help. Be sure to check out some of the before and after shots on this website, too.
Below is the link to how the "photographer search" works:
http://www.lookbetteronline.com/dating_photos/howitworks
Click the Button to Share this Post on Facebook with a Friend or Colleague:

In the market for signs soon? We'd love to earn your business!
Please be sure to visit us at: www.OakleySign.com